Get Your 1

on1 * Personal Prophecy Now

Receive personal 1on1 quality prophecy…. Lord will speak to your heart and give you the prophetic direction that you need rest assured.
Good afternoon,
1. On navigation bar click 1 on 1 ,
2. Read the prophetic instructions Below
3

. Recieve Prophetic direction counseling, prophetic coaching
4

.
Request Prophetess Debra or Chief Apostle they will Give you the Word of the Lord after documented your Faith to the Ministry BY releasingyour SEED, FOR the 1ON1 Prophecy session. You will Receive the Word of the Lord if you need prayer or if you need to ask a question you may..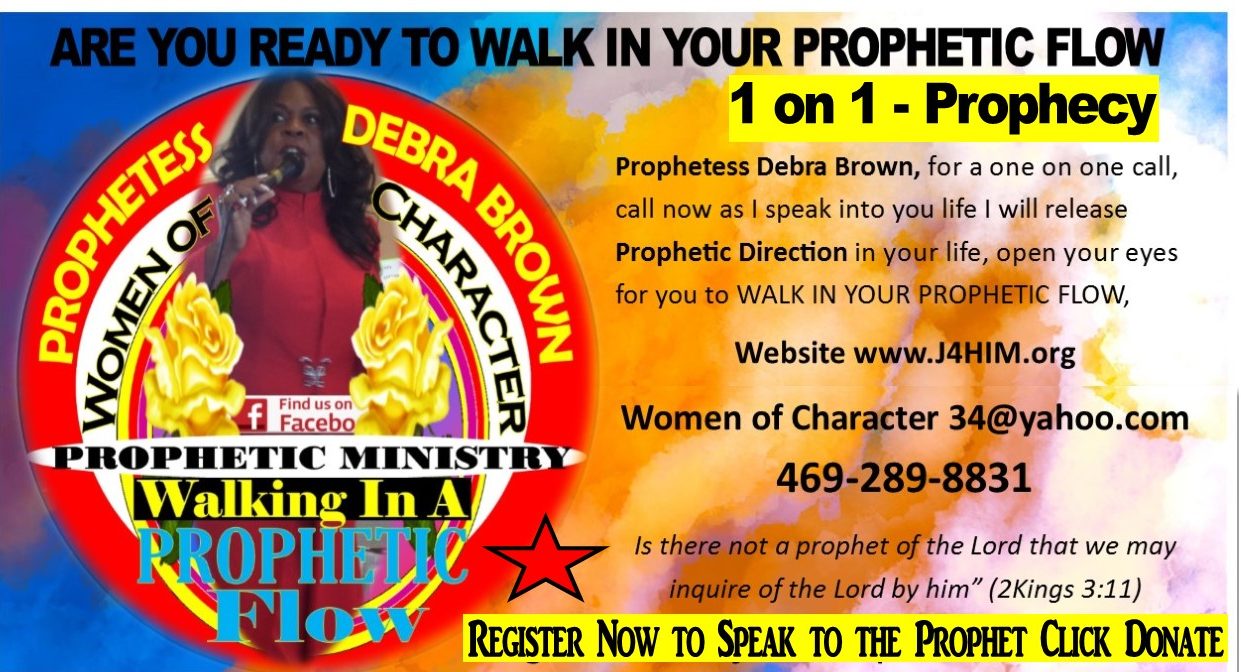 . Document your faith by Sowing your Seed within one hour you will receive a phone call or Text us at 817-773-3975 so we know Your Faith Seed have been documented and we will prepare for your personal 1on1 Prophecy session.
Prophetic PROPHECY:
When there are situations in life that takes more than a five minute phone call, you may have a legal battle, you may be involved in a give mastic violence situation, or just dealing with uncertainty and you want more CLARIFICATION
Many times in the Bible those that inquired of the Prophet needed a personal one on one prophecy for the nations, family, business or life.
Given them greater insight into life the prophet will speak directly to you personally you'll be able to ask questions also as part of the call.
Prophetic Consultation Program:
101
Personal Prophecy
$125 Per

#2.
Talking to And building a relationship with The prophet will give you the Prophetic insight by the power of the Holy Spirit and the ministry of the Seer.
The prophet brings the unknown into the knowed and your future into your presence.
We have set this Prophetic consulting program up to allow us proper and adequate time for appointments to help (you) and each personal individual cases. You will get prophetic direction, counseling, impartation ,spiritual development spiritual growth and insight into what you should do for the next season of your life.