101 Personal Prophecy Call
Please Read 1st…here are some scriptures for your Biblical study
#1. Why 1on1 Prophecy:
When there are situations in life that takes more than a five minute phone call, you may have a legal battle, you may be involved in a give mastic violence situation, or just dealing with uncertainty and you want more CLARIFICATION.
Many times in the Bible those that inquired of the Prophet needed a personal one on one prophecy for the nations, family, business or life. Given them greater insight into life the prophet will speak directly to you personally you'll be able to ask questions also as part of the call.
Call Per Session Below $125.00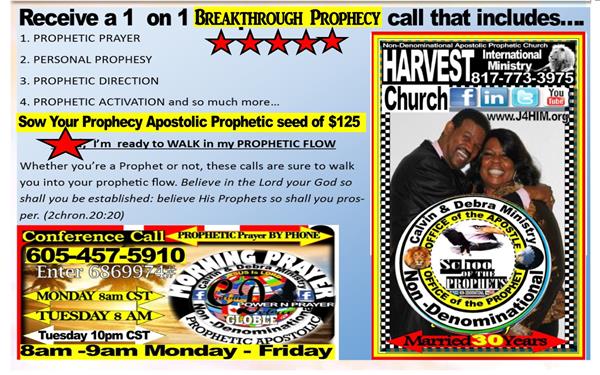 Prophetic Consultation Program:
#2.
Talking to And building a relationship with The prophet will give you the Prophetic insight by the power of the Holy Spirit and the ministry of the Seer. The prophet brings the unknown into the knowed and your future into your presence. We have set this Prophetic consulting program up to allow us proper and adequate time for appointments to help (you) and each personal individual cases. You will get prophetic direction, counseling, impartation ,spiritual development spiritual growth and insight into what you should do for the next season of your life.
101
Personal Prophecy
$125 Per
30 Minutes
Session
Biblical Principal
#3. Documentation of Faith Seed:
The requirement was that they document their faith through their giving this would release
Deuteronomy 29:29 The secret things belong unto the

LORD

our God: but those things which are revealed belong unto us and to our children for ever
,. The secrets will be revealed for life and Business
1 Samuel 9:6-9

Behold now, there is in this city a man of God, and he is an

honorable

man; all that he saith cometh surely to pass: now let us go thither; peradventure he can shew us our way that we should go.

7 But, if we go, what shall we give the man? 8 Behold, I have here at hand the fourth part of a shekel of silver: that will I give to the man of God, to tell us our way. 9

(

Before time

in Israel, when a man went to

inquire

of God, thus he spake, Come, and let us go to the seer: for he that is now called a Prophet was

before time

called a Seer.)here are some scriptures for your Biblical study

1 Kings 17:13-16

And Elijah said unto her, Fear not; go

and

do as thou hast said: but make me thereof a little cake first, and bring

it

unto me, and after make for thee and for thy son.

14

For thus saith the LORD God of Israel, The barrel of meal shall not waste, neither shall the cruse of oil fail, until the day

that

the LORD sendeth rain upon the earth.

15

And she went and did according to the saying of Elijah: and she, and he, and her house, did eat

many

days.

16

And

the barrel of meal wasted not, neither did the cruse of oil fail, according to the word of the LORD, which he spake by Elijah.