ARE YOU READY TO WALK IN YOUR PROPHETIC FLOW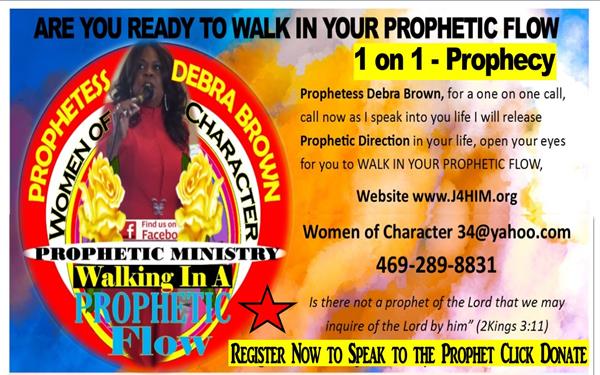 Prophetess Debra Brown,for a  1 on 1
Call,  as I speak into you life I will release Prophetic Direction, open your eyes for you to WALK IN YOUR PROPHETIC FLOW,
Contact Info: 9606 La Prada Bl. Dallas TX 75228  
Website:  www.J4HIM.org    
Email: Women of Character 34@yahoo.com
Is there not a prophet of the Lord that we may inquire of the Lord by him" (2Kings 3:11)
 Your 1 on 1 call will include 
PROPHETIC PRAYER

PERSONAL PROPHESY

PROPHETIC DIRECTION

PROPHETIC ACTIVATION 
Registration is now open for the New Year, sow a $125.00.00 Seed,
When releasing your seed make sure you fill out all contact information.
Whether you're a Prophet or not, these calls are sure to walk you into your prophetic flow.
Believe in the Lord your God so shall you be established: believe His Prophets so shall you prosper. (2chron.20:20)